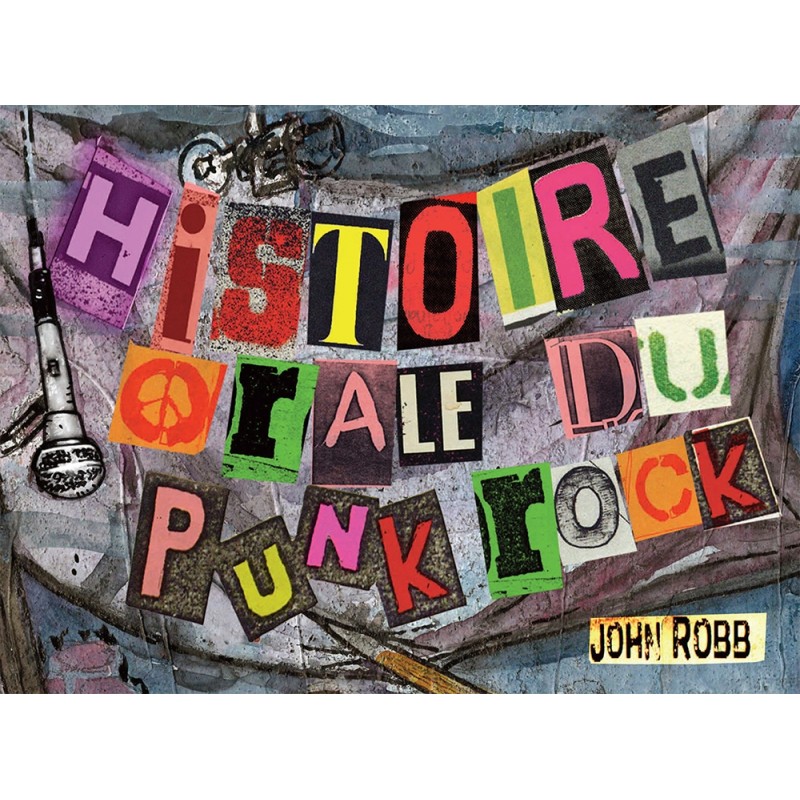  
Histoire Orale du Punk Rock - John Robb
496 pages
Format : 25 x 18,5 cm à l'italienne
Texte en double-colonnes, relié, collé-cousu
Edition française, impression Offset
Sortie : 16 avril 2020
Poids : 1010 g
R-018, prix public : 34,00 €

Auteur : John Robb
Traduction : Frédéric Jalabert & Ladzi Galaï
Mise en page et index : Cripure
Illustrations de couverture : Vince Bank
ainsi que 32 illustrations en couleur

Préface de Michael Bracewell
Avant-propos de Henry Rollins
« JOHN ROBB EST PARFAITEMENT QUALIFIÉ POUR PARLER DU PUNK ROCK. » – MICK JONES
«  JOHN ROBB EST TOUT AUSSI PUNK QUE LES CLASH. » – ALAN McGEE

« Voir les Clash sur la tournée White Riot était un peu comme découvrir comment devenir une rock star : tu n'avais qu'à te lancer. Tu n'attendais pas que quelqu'un vienne te chercher. C'est l'aspect le plus important qui ressortira du punk. Nous sommes rentrés chez nous, avons coupé nos cheveux et acheté des pantalons serrés. C'était l'An Zéro, le moment idéal pour moi. » – BILLY BRAGG

GLEN MATLOCK, MICK JONES, DON LETTS, POLY STYRENE, PETE SHELLEY, JOHNNY ROTTEN, CRASS, HUGH CORNWELL, SIOUXSIE SIOUX, WILKO JOHNSON, JIMMY PURSEY et CAPTAIN SENSIBLE comptent parmi les nombreux intervenants de HISTOIRE ORALE DU PUNK ROCK, une anthologie révélatrice sur cette explosion musicale ayant eu lieu en Grande-Bretagne dans les années soixante-dix.

Avec son propre style vestimentaire, ses coupes de cheveux, son graphisme, ses fanzines et son radicalisme politique, le punk se vantera d'une éthique DIY signifiant que chacun et chacune pouvaient y participer. Ce fut une scène très vivante qui apporta une dynamique singulière et laissera un héritage d'événements marquants, de personnages hauts en couleur et de musiques extraordinairement inspirées.

JOHN ROBB a décidé d'arpenter les routes, en se rendant aussi bien dans les villes que dans les banlieues pour interviewer les acteurs de ce mouvement excitant et inimitable. En rassemblant ces témoignages, il raconte une histoire orale du punk inédite, brute et spontanée. Depuis ses origines controversées de la fin des années soixante jusqu'aux répercussions de la période post-punk de 1984 – en passant par l'influence que le punk exerce à la fois sur les groupes contemporains, mais aussi sur la mode et la culture – John Robb démontre avec ce livre que le PUNK ROCK reste encore aujourd'hui, un mouvement viscéral, plein d'énergie et de passion.

LISTE DES INTERVENANTS : (par ordre d'apparence)

Penny Rimbaud (Crass), Hugh Cornwell (The Stranglers), Lemmy (Motörhead), Knox (The Vibrators), Glen Matlock (Sex Pistols, Rich Kids), Kevin Hunter (Epileptics, Flux Of Pink Indians), Al Hillier (Finchley Boys), Steve Diggle (Buzzcocks), Charlie Harper (UK Subs), Brian James (The Damned, The Lords Of The New Church), Mick Jones (The Clash, BAD), Rat Scabies (The Damned), John O'Neill (The Undertones), Budgie (The Slits, Siouxsie And The Banshees), T.V. Smith (The Adverts), Gaye Advert (The Adverts), Wilko Johnson (Dr Feelgood), Siouxsie Sioux, Steve Severin (Siouxsie And The Banshes), Noel Martin (Menace), Neville Staple (The Specials, Fun Boy Three), Don Letts (Réalisateur, DJ au Roxy, BAD), Garry Bushell (Journaliste, The Gonads), Segs (The Ruts), Adrian Sherwood (Producteur), Colin Newman (Wire), Captain Sensible (The Damned), Tony James (Generation X), Gene October (Chelsea), Gee Vaucher (Crass), Poly Styrene (X-Ray Spex), Rob Lloyd (The Prefects, The Nightingales), Linder Sterling (Artiste, Ludus), Keith Levene (The Clash, PiL), Jake Burns (Stiff Little Fingers), Vic Godard (Subway Sect), Nick Cash (Kilburn And The High Roads, 999) J.J. Burnel (The Stranglers), J.C. Carroll (The Members), Brian Young (Rudi), Marc Riley (The Fall, DJ BBC Radio 1), Mark Perry (Sniffin' Glue fanzine, Alternative TV), John Lydon (Sex Pistols, PiL), Marco Pirroni (The Models, Adam And The Ants), Nils Stevenson (co-manager Sex Pistols, manager Siouxsie And The Banshees), Chrissie Hynde (The Pretenders), Jimmy Pursey (Sham 69), Damian O'Neill (The Undertones), Mensi (Angelic Upstarts), Gavin Friday (Virgin Prunes), Terrie (The Ex), Tony D (Fanzines Ripped And Torn, Kill Your Pet Puppy), Pauline Murray (Penetration), Howard Devoto (Buzzcocks, Magazine), Paul Stolper (Galeriste), Jah Wobble (PiL), Tony Wilson (Factory Records), Chris Bailey (The Saints), Andy Czezowski (Gérant du Roxy, Manager des Damned et Generation X), Mark Stewart (The Pop Group), Malcolm McLaren (Manager des Sex Pistols), Mark Helford (Fan club des Clash), John Ellis (Bazooka Joe, The Vibrators, The Stranglers), Paul Madden (Photographe), Jeremy Diggle (Artiste), Robin Chapekar (Bazooka Joe), Eddie (Roadie de Bazooka Joe, The Vibrators), Nick Wells (Étudiant, St Martin's School of Art), Pat Collier (The Vibrators), Billy Bragg (Riff Raff), Paolo Hewitt (Écrivain, journaliste), Pete Shelley (Buzzcocks), Peter Hook (Joy Division, New Order), Mick Rossi (Slaughter And The Dogs), Paul Research (The Scars), Ari Up (The Slits), John Bentham (Réalisateur, manager d'Outl4w), Michelle Brigandage (Brigandage), Tessa Pollitt (The Slits), Mike Thorne (Directeur artistique EMI, Producteur de Wire), Éric Débris (Métal Urbain), Guy Trelford (Écrivain), Clint Boon (Inspiral Carpets), Deko (Paranoid Visions), Steve Kent (The Business), Brian X (Punk de Londres), David Gedge (Wedding Present), Arturo Bassick (The Lurkers), Tom Vague (Fanzine Vague), Jaz Coleman (Killing Joke), Geordie (Killing Joke), Tom (Punk de Middlesbrough), Aki Qureshi (Southern Death Cult, Fun-Da-Mental), Micky Geggus (Cockney Rejects), Nicky Tesco (The Members), Beki Bondage (Vice Squad), Mick Hucknall (Simply Red), Henry Rollins (Black Flag, Rollins Band), Bernard Sumner (Joy Division, New Order), Andy Kanonik (Demob), Ranking Roger (The Beat), Colin Abrahall (GBH), Micky Fitz (The Business), Mick Crudge (The Fits), Eugene Reynolds (The Rezillos), Richard Jobson (The Skids), Watford Jon (Argy Bargy), Justin Sullivan (New Model Army), Richie Rocker (MDM), Jeremy Cunningham  (The Levellers).